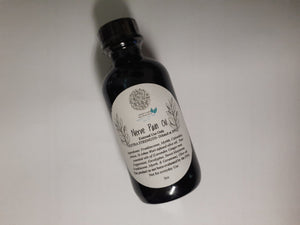 WellFlower Apothecary
Nerve pain Oil
Regular price
$13.00
$0.00
Unit price
per
An herbal oil blend, made with organic herbs infused by 3 day heat infusion method, with the addition of 100% therapeutic grade essential oils to bring relief from common neuropathy symptoms such as burning, tingling, and uncomfortable prickling. 

Ingredients: Calendula, Chamomile, St. John's wort, Frankincense, Myrrh, Lavender, Ginger root, & Arnica infused olive oil, 100% therapeutic grade essential oils of: Frankincense, Myrrh, Vetiver, Geranium, Ginger, Peppermint, and Sweet Marjoram 
All of our products are 100% natural handcrafted in small batches. Our herbs are locally sourced, by an OTCO approved USDA certified, Organic non GMOs project verified, Kosher earth certified agriculture producer.

---------------------
This information is not intended to diagnose, cure, treat, or prevent any disease. This information has not been evaluated by the FDA. If you are pregnant, nursing, or taking medication, please consult a licensed healthcare professional before starting any herbal regimen. 
---