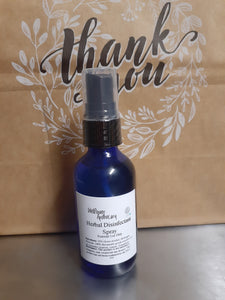 WellFlower Apothecary
Herbal Disinfectant Spray
Regular price
$12.95
$0.00
Unit price
per
Our Herbal Disinfectant spray follows the CDC's recommended recipe for effective disinfectant. We utilize high proof grain alcohol, hydrogen perioxide, and antiviral, antimicrobial, antibacterial, and antifungal 100% pure essential oils
(FOR SURFACES ONLY) DO NOT use on skin. 
 Ingredients: Grain Alcohol, hydrogen perioxide, Distilled water, essential oils (see below)
Scents available 
🌿 Citrus blast -Lemon, Sweet Orange, Grapefruit 
🌿Dont worry be happy- Lavender, Sandalwood, Sweet Marjoram, Rosemary 
🌿Squeeky clean- Lemon, Peppermint, Eucalyptus,  Tangerine 
If you have a special scent in mind, let us know. We can customize a blend for you 
--------------------
This product is not intended to diagnose, prevent, cure, or treat any disease or health condition. This product has not been evaluated by the FDA. 
---